Can't believe we are two weeks into the year already time is flying by again.
Have to say there were some fantastic entries last time in the Creative Moments anything goes challenge which was sponsored by Sassy Studios.
This fortnights challenge is
Anything Goes/Buttons and pearls sponsor
is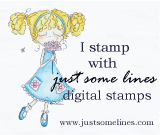 Just some lines are offering a Shop Voucher.
I loved this little ballerina she is part of a set, the text is also a stamp.
The stamp inspired my card frame as it mentions swirling and turning I thought I would add some swirl embellishments with a few jewels. I first coloured her using my promarkers in traditional pink colours and added a few glitter high lights but then started looking through my card stash and realised I didn't have the right shade of pink to go with so I then coloured her using peach tones instead